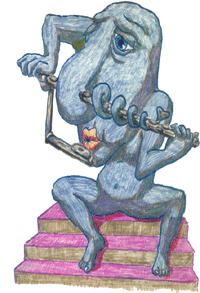 Composer Evan Solot's work has earned accolades and support from such diverse sources as National Endowment for the Arts, the Rockefeller Foundation, the Pennsylvania Council on the Arts, Meet The Composer, and the American Composers Forum. Evan composes for orchestras, choirs, jazz groups, pop recordings, dance and theater. His music has been performed by some of the country's leading jazz and pop performers, including Randy and Michael Brecker, Stanley Clarke, Kurt Elling, Mel Torme, Dionne Warwicke and Bette Midler. He has collaborated with poet Sonia Sanchez, playwright Ntosake Shange, choreographer Judith Jamison, and Stevie Wonder. His commissions include pieces for Alaska, Mississippi, Illinois and Minnesota.
A former trumpet player, he toured with Bette Midler, Burt Bacharach, Frank Sinatra and Lou Rawls as well as serving as lead trumpet in over 50 Broadway shows.
As a Fulbright Scholar, he was a jazz education consultant in New Zealand and the USIA awarded him with the designation of American Cultural Specialist. His recent Senior Scholar Fulbright was in Sri Lanka where he helped with their first international music festival. Evan's music underscores the award winning documentary "Standing in the Shadows of Motown" and "baddDDD Sonia Sanchez" and is part of Naxos Records' American Essentials series. He orchestrated the new NBC Nightly News Theme. When Evan retired as Professor and Head of the Composition Department at University of the Arts in 2015, the university created a scholarship in his honor and awarded him the stars of Professor Emeritus.
Commissions
BaddDDD Sonia Sanchez – Film score
peace is a haiku song
a cappella choir piece in response to the mural honoring poet Sonia Sanchez
Exquisite Corpse
in honor of Network for New Music's 30th anniversary
The Hawk
Liturgical piece based on poem by Pulitzer Prize winning poet Franz Wright for choir and chamber ensemble at St. Bartholomew's Church, NYC
Forbidden Boundaries
for River North Chicago Dance Company
Philly Complaint Choir
Composer and conductor for collaboration with sculptor/curator Shelley Spector and First Person Arts
Does Your House Have Lions?
a jazz/funk opera based on Sonia Sanchez' memoir in the form of an epic poem for jazz and pop vocal soloists, actors, dancers, choir, big band, bucket drums and African drum ensemble
Underground Movements
for River North Chicago Dance Company and the Chicago Childrens Choir (Continental Harmony Commission)
Sonia Sanchez Song Cycle
for Network for New Music
(Magic Shmagic) No Flutes Allowed
for Mozart Reloaded at the Kimmel Center (Fresh Ink Commission)
Columbier Variations
Three movement jazz work for the Grammy All-Star Hign School Jazz Ensemble (ACF Community Partners Commission)
Not So Fast
for the string trio Time for Three (ACF Salon Commission)
Suite Mississippi
A multi-media symphonic jazz piece celebrating Mississippi's contribution to the development of jazz (for orchestra, choir, blues band, horns section, vocal soloists, actors, and dancers).
Glacier Blue
Concerto for violin and big band, millennium piece for the state of Alaska
(Continental Harmony Commission)
Straight On 'Til Morning
Joint commission for the Delaware Symphony and the Reading (PA) Symphony
Bass Concerto
Bass soloist with orchestra and chorus, composed for and premiered by Stanley Clarke
Nick of Time
For the D'Amico Percussion Ensemble
American Essentials
Two songs recorded by the Chestnut Brass for Naxos Records' series
Nepenthe
For the Del'Arte Woodwind Quintet
Slip Knot
For the contemporary chamber ensemble, Relache
Magnetic Fields
For the contemporary chamber ensemble, Contrasts
Waltz for Debbie
UArts Faculty Saxophone Quintet
A Tribute to the Beatles
Montreux Jazz Festival
Compositions and Arrangements for Pop and Jazz Artists
Bette Midler, Mel Torme, Ben Vereen, Stanley Clarke, Bob Berg, Michael Brecker, Randy Brecker, Joey DeFrancesco, Kurt Elling, Robin Eubanks, Stan Kenton, Mike Mainieri, Bob Mintzer, Greg Osby, Edward Simon, Mike Stern, Clark Terry, John Swana (partial listing)
Film, TV, Commercials, Industrials
Standing in the Shadows of Motown – underscore
baddDDD Sonia Sanchez – documentary underscore
NBC Evening News Theme (new orchestration) – TV
What Harm Is It To Be A Woman
Underscores for a 4 film documentary series
Comcast Cable – TV promotion
Genentech ONE – strings and rock band orchestrations for oncology drug introduction in Las Vegas
US Farm Report – TV orchestrations
SRO – TV show theme music
Ajunta – CD-Rom calling card
Jones Cable – TV
Dupont
David's Bridal
Liberty Bell Track
HMO PA
Echelon Mall
Burlington Center
Door World
Glamour Kitty Litter Deodorant
Dance
Forbidden Boundaries for River North Chicago Dance Company
Underground Movements
for River North Chicago Dance Company and the Chicago Childrens Choir (Continental Harmony Commission)
With Us
Collaboration with choreographer Judith Jamison
Regeneration
For Philadanco
Motorella
For ISO
Gotta Dance!
For Dance Affiliates
Beat
For River North Chicago Dance Company
Ghettoscape
For Traci Hall & Company
Polarities
For DanceTeller
Reminiscence
For Trina Collins' Painted Bride performance and Russian tour
Theater
The Princess and the Pea
orchestrations – Shakespeare Santa Cruz
Cinderella
orchestrations – Shakespeare Santa Cruz
The Lion, the Witch & the Wardrobe
orchestrations – Prince Music Theater
Love Knot
By Dorothy Louise, one of three American plays selected for performance at the Women's International Playwrights' Conference in Galway, Ireland
Hamlet
Arden Theatre
Sparkle
Collaboration with Ntosake Shange for Freedom Theatre
Coolie High
Freedom Theatre
Purlie
Freedom Theatre
Billie Holiday
The Lady Behind the Gardenia – Freedom Theatre
Residencies
Fulbright Senior Specialist – commercial music appointment in Sri Lanka
McKnight Foundation residency – Minnesota
Fulbright Fellowship to New Zealand as jazz educator consultant
Grammy All-Star High School Jazz Ensemble (ACF Community Partners residency)
Continental Harmony residency – Chicago, Illinois
Continental Harmony residency – Juneau, Alaska
Continental Harmony residency – Gulfport, Mississippi
Compose Yourself – sponsored by Meet the Composer and Young Audiences, culminating in an educatoral CD-Rom
Atlantic Center for the Arts – composer residency
New Zealand Youth Jazz Orchestra residency culminating in recording and tour
Publications
Norton Scores– – transcribed Gerry Mulligan's performance of My Funny Valentine
Randy Brecker Solo Transcriptions – special mention
Duke Ellington, Music Is My Mistress – special mention
Henry Pleasants, Serious Music – and All That Jazz – special mention
Educator
         University of the Arts – (Full Professor, retired 2016)
Served as:

Head, Composition Department

Chair, Graduate Studies
Head, Jazz Studies
Chair, Jazz Emphasis

Created and instituted curricula:

Master of Music in Jazz Studies
Bachelor of Music in Composition
Bachelor of Music in Jazz Studies Performance
Jazz Emphasis Minor
Performer
First trumpet in the orchestras of more than 50 Broadway shows
Tours with Bette Midler, Frank Sinatra, Burt Bacharach, Lou Rawls
Member of MFSB, the band that backed all of the "Philly Sound" recording artists (Gamble & Huff/Philadelphia International records
Performed in the Count Basie, Duke Ellington, and Woody Herman bands
Performed with the Philly Pops, Houston Opera Company, Pennsylvania Ballet, the Opera Company of Philadelphia
Recorded with hundreds of artists in Philadelphia, New York and Boston
Professional Affiliations
The Recording Academy (Grammys)
Grammy Review Panel
American Composers Forum
Meet The Composer
American Federation of Musicians
BMI
Selected Recordings
Bette Midler "Songs for the New Depression" (Atlantic)
Lagbaja "Africano…the mother of groove" (Motherlan' Music)
Underground Movements (RNCD)
Glacier Blue (JJC)
"Berlin For Brass" – American Classics Series (Naxos)
For a more detailed resumé, click here