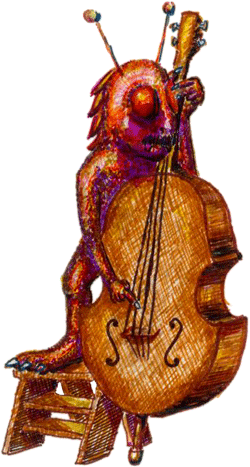 I just returned from Southeast Asia after completing a teaching Fulbright in Myanmar (Burma). This was my 3rd Fulbright! I taught faculty and students Ear Training, Theory, Composing, Arranging and worked with ensembles. The first four weeks were in Yangon (Rangoon) and the next two were in Mandalay. I composed pieces for mixed chamber ensembles in both places and just learned that they are continuing to perform the pieces (including at a wedding!). Living and working with local musicians in a totally different kind of culture was one of he most amazing experiences of my life! My wife met me in Mandalay and we took advantage of this unique opportunity to travel around Southeast Asia for a month. Fabulous!
Last winter, I was honored to present a master class for the Pasatono Orquesta in Oaxaca, Mexico. They asked me to update and expand a 1933 piece by composer Carlos Chavez for orchestra and indigenous Mexican instruments with the goal of making it more accessible to contemporary audiences. After changing some things and added a new section, I conducted and rehearsed the ensemble. In addition to the conventional orchestra instruments, there were all sorts of large and small guitars I'd never seen as well as many percussion instruments I'd never heard of (including a turtle shell floating in water and struck with a mallet)! It was an fabulous experience for all of us. Here's a link to short video excerpts from that day: https://www.facebook.com/pasatono/videos/10154613308629865/
I'm looking forward to working with them again this winter.
Most of my writing lately has been arranging and orchestrating. I've written pops arrangements for the Richmond (VA) Symphony and music for a holiday concert at Carnegie Hall with Yolanda Adams and Dionne Warwicke.
Two years ago, I retired from a lifetime of teaching at University of the Arts.  I'm enjoying having more time to compose, arrange and make art – but I soooo miss my UArts colleagues and students – and being in the midst of wonderful artists and educators.  There was a Reception and Tribute Concert with many alumni and special guests to launch the Evan Solot Scholarship Fund. I'm honored and humbled!  It was a great hang! Here's a link to the amazing violin soloist Diane Monroe on fire performing the Funk movement from Glacier Blue at that Tribute Concert: https://www.youtube.com/watch?v=NVbiIQ7ZSZI
• BaddDDD  Sonia Sanchez, the documentary I scored for filmmakers Janet Goldwater, Barbara Attie, and Sabrina Schmidt Gordon won the Audience Choice Award at the BlackArts Film Festival, and was nominated for an Emmy!
Recent cool commissions:
•  The American Composers Forum teamed up with Philly's Mural Arts Program to select composers to respond musically to 3 murals around the city. I was one of the composers selected to create a piece based on the peace is a haiku song mural in honor of poet Sonia Sanchez.  More than 60 voices from the wonderful Singing City Choir directed by the fabulous Jeffrey Brillhart will perform my piece on October 12 in front of the mural at 15th & Christian Streets.
•  Network for New Music came up with wacky project in honor of their 30th anniversary called Exquisite Corpse.  It's based on a old parlor game influenced by the Surrealist movement in which each artist contributes a small section based on the previous artist's work.  In this case, 30 composers have written about 8 measures based on seeing only the last measure of the previous composer's music.  The first time we'll all hear it will be at the performance on October 26!
I was awarded a Fulbright Senior Specialist appointment to Sri Lanka.  This was my second Fulbright. I spent a month there from mid-August to mid-September, helping with their first international music festival and presenting workshops, advising on curriculum and teacher assessment for their new music conservatory that will feature commercial music in addition to the usual menu of courses.  I'm so lucky to have music take me all over the world on these incredible adventures!
A few seasons ago, The Hawk, my commission for chorus and chamber ensemble, a liturgical piece based on Pulitzer Prize winner Franz Wright's poem was premiered at St. Bartholomew's Church in New York City.  There were 1400 in the audience (congregation?).  Since it's inappropriate to applaud during a church service, there was a respectful silence followed by thunderous applause.  It was a huge success with accolades from members of the orchestra and chorus as well as audience members.  Especially complimentary were author Colum McCann (Let The Great World Spin) and Pulitzer Price-winning playwright Doug Wright (I Am My Own Wife).
Glacier Blue, my concerto for violin and big band continues to be performed around the world. On the heels of performances in Manchester (UK), Iowa, Louisiana and Romania was a recent performance in Appleton, Wisconsin! Previous performances include Alaska, Pennsylvania and Tennessee.
Before retiring from UArts, I co-taught 4 Interdisciplinary Collaborations classes last year with my good friend, sculptor Shelley Spector.  They were based on programs I led for 5 years at Liverpool Institute for Performing Arts (Paul McCartney's school).  Students from University of the Arts and their LIPA collaborators created a student-driven project each year.  The UArts students represent a range of artistic  disciplines including Dance, Musical Theater, Animation, Photography, Music Composition, Ceramics, Fibers, Music Business, Graphic Design and Illustration. With all of those creative juices mixing, there were some awesome projects!
Still getting feedback about one of the most off-the-wall projects I've ever been a part of. The Philly Complaint Choir was a collaboration with sculptor/curator Shelley Spector and First Person Arts. As part of the international Complaints Choir movement, hundreds of complaints were gathered and narrowed down to the best of those that were either political, universal, Phily-centric, or just plain funny. Shelley and I shaped them into lyrics and I crafted them into a choir piece accompanied by a track with a Philly sound groove. It was sung by a 75 voice volunteer choir of mostly untrained singers. We performed to laughingly appreciative crowds all over town, on TV, and at he First Person Arts Festival at the Painted Bride. Her's a link to a wonderful performance video created by Cecilia Smith: <http://www.viddler.com/explore/SPECTOR/videos/1/>
Frank Chavez, artistic director of River North Chicago Dance asked me to create music for another dance piece last year that became Forbidden Boundaries. With Frank's imaginative choreography and the ensemble's brilliant dancing, it's wowing audiences nationally and internationally. Our previous collaboration, Underground Movements with the Chicago Childrens Choir was one of the most fulfilling collaborative processes I've ever experienced.
Lots of other cool stuff in the works. I'll post more specific news as things become definite.